I want to scream for the whole world to hear!

The widow of General Kwiatkowski despairs over results of exhumation of her husband, Commander of the Polish Armed Forces Operational Command killed in Smolensk.
Published: May 30, 2017
The pain of the families of the Smolensk disaster victims seems to be boundless. Despite the assurances made seven years ago by the Government of Donald Tusk that all the procedures had been followed and complied with, the results of the exhumation of General Bronisław Kwiatkowski are shocking.

A horrific discovery was made when the coffin of General Bronislaw Kwiatkowski was recently exhumed. Parts of 8 different bodies were found in his coffin. The widow of General Kwiatkowski, in conversation with "Fact," does not hide bitterness.
"Do you think it's about small parts of the body? You are wrong! I want to scream for the whole world to hear! I hate lies! For seven years I have lived with lies," Krystyna Kwiatkowska, the widow of General Kwiatkowski, said.
As she pointed out, the coffin contained smaller and larger fragments of other bodies, including head parts, extra hips and pelvis, an extra arm. Among them were fragments of the bodies of the victims who had already been exhumed and reburied.
It is unbelievable how the Russians handled the body of General Kwiatkowski and other victims of the Smolensk disaster.
In her interview with wPolityce.pl Mrs. Kwiatkowska said: "I do not even have a grudge so much against the Russians but more against our government that they gave [the Russians] everything and they did not care. I think the Polish side should take care of us. I took part in the exhumation of my husband because my doubts grew over the years and there was growing sense that they lied to me for years. That is why I wanted to be there.
I saw [on the internet] some hostile comments: "stupid woman, she even took her daughters". After all, my daughters are grown up women and they have decided for themselves. Why do I have to hide anything from them? Then they would have a grudge against me. I see no reason to forbid them anything here. After all, it is normal that we are together and we live through this together."
In her interview with wPolityce, Mrs. Kwiatkowska further commented on the entire situation as follows:
I did not fly to Moscow because of my health conditions. Shortly before the Smolensk disaster, I was in a hospital where I had a very serious surgery. I returned home for Easter, two weeks before the catastrophe.
Right after the crash, however, I was one thousand percent convinced that the Polish government would perform its duty. I believed in them just as my husband used to approach every soldier. I saw how he had to report to all the national defense ministers and the heads of the armed forces in various positions. How many sleepless nights he had because of it and how much stress. So, it was beyond my comprehension that someone would not check and assure such basic things. I cannot understand it until now. Please note that all persons who acted in the position of responsibility in connection with the Smolensk disaster prior to or on April 10, 2010, subsequently have been promoted. This was another shock for me.
Nobody even asked what families were going through, how they felt, why politicians who know everything were treating us that way. The first person responsible for this situation is Mr. Tusk because he covered up all the wrongs of his ministers. It is he who should demand accountability from each of his ministers. When meeting with us, Donald Tusk stated that he took all the responsibility for it, so let him answer for it now.
I understand that he didn't have to know how his ministers performed their duties. But then why there were multitudes of people involved if no one answers today? Let's take for example Mr. Arabski who was responsible for the preparation of all the trips, and after the Smolensk disaster was appointed as Ambassador to Spain.
Mr. Janicki who was responsible for the security of VIPs received promotion to Division General and he does not even have a master degree. Mr. Miller became the Governor, prosecutor Parulski was promoted to Brigadier General, and Mrs. Kopacz became Prime Minister. It is also worth mentioning here Mr. Klich. Mr. Tusk asked him to explain the "catastrophe", he worked for 17 months, departed and received almost half a million severance pay. After a short leave, the Civic Platform placed him as their number one on the election lists for Senator from Krakow and today he serves as Senator of the Republic of Poland. Such are the standards of Civic Platform "PO."
I think they just thought it would be that way forever. For the first 3 years, I had not known at all whether my husband was found or not. The medical documentation, which was given to us 3 years after the crash, instead of dispelling our doubts and questions only intensified them. Therefore, I do not regret that this exhumation took place and that I saw what was in the grave. Only now I can respectfully bury my husband, and my children and grandchildren will not have questions.
My heart hurts so much over how my husband was treated. He was such a good man and soldier! The whole world praised and admired him. I heard many warm words about him. I heard, among others, on May 28, 2011, from President Obama.
And what did our national defense ministers do? They portrayed our soldiers and generals as losers and drunkards. For me it is completely incomprehensible. As a soldier's wife, it hurts me very much.
Bronislaw Komorowski as Commander-in-Chief of the Armed Forces and Minister of Defense Klich have done great harm to the families. None of them was behind us. They simply betrayed us, the military families. They laughed at our husbands and left us alone. For me, these are the traitors of the Polish soldiers. They did not care about the soldiers or the honor of the Polish Army.
General Kwiatkowski's widow admitted that she did not know what to do with the funeral again, whether to organize it now or not yet, because further scandalous discoveries may emerge as the exhumations proceed, and in the successive coffins remains of her husband could be found.
Krystyna Kwiatkowska acknolwedged that "this is new huge pain. There were 14 very large, different pieces of bodies that belonged to 7 different people. The remains were very well preserved because they were in a metal coffin. There were not bones as someone tried to insinuate to me on the street asking a few days ago: "And what bones were you watching?" The entire arm or pelvis, legs, muscles, skin, these are not bones…"
Sources: Fakt, Piotr Czartoryski-Sziler interview in wPolityce.pl
Photo: TV Repulbika/wPolityce.pl
Featured Stories
Smolensk Spectrometer Screen Dumps
Click on the thumbnails below to view screen dumps from the detectors used to examine the wreckage and seats from the Polish president's plane crash in Smolensk. An "X" denotes the presence of the detected explosive substance and its type. The underlined Polish word "Probka" or "probka" in the screen dump 1 and 2, means "Sample"
Why did they all fly on the same plane?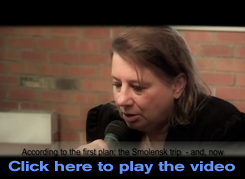 Synopsis: January 12, 2013, Toronto, Canada. The wife of the late Deputy-Minister of Culture Tomasz Merta: "What I am about to tell you now, are suspicions - and not even my own - but, rather the [suspicions of the] individuals in the inner-circles of the [Polish] military... I heard a statement that was made - but, I am not taking any responsibility for how credible, or not credible it is. [I heard that] had the generals and journalists' not been re-assigned to different aircraft, it wouldn't have been the Tupolev [Tu-154M], but rather the Casa [transport aircraft] that would have been taken out.
Because the Generals were no longer onboard the Casa, there was no reason for it to get airborne. And for this reason it was the Yak[-40] that flew off to Smolensk. This Casa [transport aircraft] was never examined in any way. It was not subject to any examination. Aside from a single note in the deposition given to the military, no one was interested why this aircraft didn't fly [to Smolensk]. Perhaps, this is someones crazy phantasy, but perhaps it isn't.
Some [Polish] military personnel had suggested, that it [the Casa] had to stay behind at the Okecie military [tarmack], so that the explosives could be removed from it - because they were no longer needed [...] I am only repeating what I was told."
"Disarming" Explosives ...
It is worth for us to retrace the entire process of "disarming" the case of explosive substances at the crash site. It all started with the publication of Cezary Gmyz in "Rzeczpospolita" on October 30, 2012, and information that the detectors, which were used by experts in Smolensk (in late September and October) showed traces of TNT and nitroglycerine.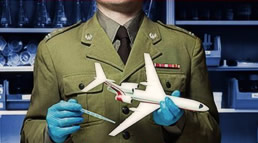 As it turned out, the journalist was also reporting about the indication of Hexogen. The storm broke. The prosecution denied the publication, and ultimately, the editor-in-chief of "Rzeczpospolita," Cezary Gmyz and two other journalists lost their jobs. The entire editorial staff of one of Poland's most popular weeklies, "Uważam Rze", was also silenced.