Crossing the Barrier of Humanity
Open Letter from Jacek Świat, M.P. to Grzegorz Schetyna, Chair of Civic Platform
Published: October 18, 2019
I am writing to you not only in your capacity as the chairman of the largest opposition party. You are also my electoral rival in Wrocław. And finally - we have known each other for 30 years; from the time when we were both involved in the Solidarity Movement building a new, and sovereign Poland.

Today we stand on opposite sides of the political barricade. It happens. Although I am very critical of the path you and our other mutual friends have chosen, I must acknowledge and respect such decisions.

However, in the darkest visions of the future, I did not anticipate that we would stand not only on two sides of the political dispute. Here we stand on opposite sides of the cultural and civilizational warfare.

There are impassable barriers in my world. It is unacceptable to act abroad against Poland and Poles. We must protect, explain, and improve the image of our homeland abroad - even when life gave us a hard time. One must not call for physical or civic elimination of ideological opponents. Vulgarity cannot be acceptable. You can't mock peoples' weaknesses, disability, religion, nationality, race, etc., even when we raise justified criticism. And it is absolutely forbidden to scoff at human tragedies, death and mourning.

We are not angels. However, in my world, unworthy behaviors, when they happen, are stigmatized, treated with disapproval, and sometimes punished severely. And above all - the word 'sorry' exists in my world.

I am observing the evolution of your political camp with growing astonishment and disgust. I remember well how years ago my party's politicians were called deviants and their supporters were called cattle. I didn't hear any embarrassment then. I only heard the joyful croak of approval, including yours. I remember the industry of contempt and disdain that was launched against the late President of Poland, Prof. Lech Kaczyński. To this day, mockery of my own and our mourning after the Smolensk tragedy hurts. I do not understand and I will never understand the ferocity of your formation not to allow a dignified commemoration of the victims of the (Smolensk) tragedy. Today, with anxiety and growing disgust, I observe the actions of truly professional and lavishly paid hate and spitting production centers.

I experienced a lot, and as a man immersed in politics for over 40 years, and I have thick skin. However, what had happened in recent days meant crossing the barrier of humanity.

Of course, I am thinking about on-line "performances" of a lady whose name I will allow myself to omit, because she does not deserve any kind of publicity. We know who we are talking about. A brutal mockery of human suffering, pain and mourning is a phenomenon which cannot be described in the language of cultured Poles.

For almost ten years I had to endure mockery, insults, and derision (as husband of the Smolensk crash victim). I do not wish anyone who had lost a loved one such experiences. In my case, and in the case of many of my friends, the saying "time heals wounds" sounds like a grim joke. Today, after so many years, that tragedy returns in an unimaginably repulsive shape.

You are solely responsible for this scandal. It was you who put on the electoral list a person who had no experience in social activities. She was put on the list only as a reward for her insulting Internet activities. You have deliberately promoted a person who was famous for preparing the so-called "Smolensk sausages."

I was waiting for the reaction from you and your political camp. It never came! There was no condemnation, there was no withdrawal of recommendations, and the word "sorry" was not spoken. Today I don't expect anything from you anymore. You found yourself in a world of foreign anti-culture, foreign anti-civilization. I don't have, and don't wish, to have anything to do with your reality.
I write this letter only for the record and as a warning. Every day I pass large billboards with your image and a picture of Mrs. Kidawa-Błońska. I think then that the human nature knows no boundaries. Also the boundaries of hatred, cynicism and meanness.
Jacek Świat
Husband of Aleksandra Natalli-Świat
killed in the Smoleńsk Crash on April 10, 2010
Featured Stories
Smolensk Spectrometer Screen Dumps
Click on the thumbnails below to view screen dumps from the detectors used to examine the wreckage and seats from the Polish president's plane crash in Smolensk. An "X" denotes the presence of the detected explosive substance and its type. The underlined Polish word "Probka" or "probka" in the screen dump 1 and 2, means "Sample"
Why did they all fly on the same plane?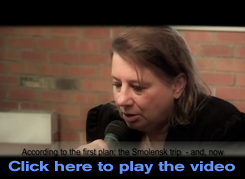 Synopsis: January 12, 2013, Toronto, Canada. The wife of the late Deputy-Minister of Culture Tomasz Merta: "What I am about to tell you now, are suspicions - and not even my own - but, rather the [suspicions of the] individuals in the inner-circles of the [Polish] military... I heard a statement that was made - but, I am not taking any responsibility for how credible, or not credible it is. [I heard that] had the generals and journalists' not been re-assigned to different aircraft, it wouldn't have been the Tupolev [Tu-154M], but rather the Casa [transport aircraft] that would have been taken out.
Because the Generals were no longer onboard the Casa, there was no reason for it to get airborne. And for this reason it was the Yak[-40] that flew off to Smolensk. This Casa [transport aircraft] was never examined in any way. It was not subject to any examination. Aside from a single note in the deposition given to the military, no one was interested why this aircraft didn't fly [to Smolensk]. Perhaps, this is someones crazy phantasy, but perhaps it isn't.
Some [Polish] military personnel had suggested, that it [the Casa] had to stay behind at the Okecie military [tarmack], so that the explosives could be removed from it - because they were no longer needed [...] I am only repeating what I was told."
"Disarming" Explosives ...
It is worth for us to retrace the entire process of "disarming" the case of explosive substances at the crash site. It all started with the publication of Cezary Gmyz in "Rzeczpospolita" on October 30, 2012, and information that the detectors, which were used by experts in Smolensk (in late September and October) showed traces of TNT and nitroglycerine.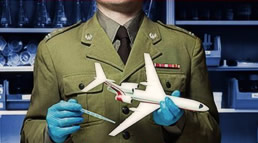 As it turned out, the journalist was also reporting about the indication of Hexogen. The storm broke. The prosecution denied the publication, and ultimately, the editor-in-chief of "Rzeczpospolita," Cezary Gmyz and two other journalists lost their jobs. The entire editorial staff of one of Poland's most popular weeklies, "Uważam Rze", was also silenced.