Cease-and-desist order issued against TVN for violations of journalistic standards re: Smolensk

Published: April 3, 2017
The Polish National Broadcasting Council (KRRiT), after careful analysis of the documentation provided, issued a cease-and-desist order against TVN SA for its practices, which consisted of failure to adhere to the due diligence and reasonable care standards in the collection and usage of the material presented in the program titled "(Im)pure theories" broadcast by TVN24 in "Black on White" series.
As reported by virtualnemedia.pl, Piotr Świerczek's report "(Im) pure theories" was broadcast in "Black on White" in October 2016. The material criticized the work of the parliamentary committee dealing with the Smolensk disaster.

The program was advertised as follows: In the "Black and White" program, about serious theories full of simple mathematical errors, about theories that exclude each other, about theories in which - as the authors suggest – it is better not dig some issues. There is a letter that represents an interesting exchange of correspondence between Macierewicz's experts; but not only…," the announcement of the reportage stated.

In December 2016, the attorney for one of the experts defamed in this program filed a complaint with the National Broadcasting Council about gross distortion and manipulation of his work in this reportage.

In the resolution adopted at the end of March 2017, KKRiT found that in preparations of this report TVN violated provisions of Art. 12 sec. 1 of the Press Law, which states that journalists are obliged to "exercise particular care and diligence in the collection and usage of the materials, especially to check for the truthfulness of the obtained messages or to provide the proper sources."

KRRiT also considered the TVN's explanations to be insufficient and authorized the President of KRRiT to issue a follow up order in this case.
Source: niezalezna.pl, wpolityce.pl, wirtualnemedia.pl
Featured Stories
Gaping Holes In Russian Report
In 1952, Congress investigated the Katyn Forest Massacre and proved Soviet guilt; in 2010 and 2011, there were calls in Congress for an independent investigation into the Smolensk crash.

Such an investigation is urgently required in 2012, and not only to solve the mystery of a vexing crash. We must find out whether the West has once again been party to another Big Lie out of Moscow.
TNT After All ...
Did Polish Military Prosecutors' Office lie to the international media during its press conference in Warsaw on October 30, 2012? Was the international public opinion purposefully misled by the Polish military prosecutors? It is noteworthy, that on October 30, 2012, during the international press conference in Warsaw concerning the discovery of the TNT on the wreckage of the Polish president's plane, Mr. Szelag said the following: "'It is not true that investigators found traces of TNT or nitro-glycerine,' said Colonel Ireneusz Szelag from the military prosecutors' office." (Source: Reuters - "Poland denies explosives found on wreck of crashed jet")
Dr. Michael Baden Interview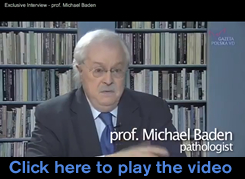 World-renowned forensic pathologist goes on the record: "I have been doing autopsies for 50 years, and I've investigated more than fifteen, twenty airplane crashes […] I've been in countries all over the world where families think that the government is hiding something. Whether it is Zimbabwe or Israel, or Philippines, the government may not like an outside person checking to make sure they got it right. [But,] they never interfered with that. The family, the next of kin, always has the right to do what the wishes of the family are. In the 21st century, the body of the dead person no longer belongs to the state. It belongs to the family. So, it is unusual - something that I have never experienced before - where the government [of Poland] has not permitted the famil[ies]" to conduct independent forensic examinations of their loved ones' remains [...] I've never heard of a body coming back to a country and the family being unable to open up a casket. I've never heard of the family not being able to get an autopsy… Read more here