Cruel and inhumane treatment of the Smolensk victims and their families!
Maria Karweta describes gross violations of human rights by the Tusk/Kopacz government.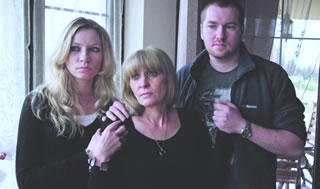 Published August 10, 2017
Maria Karweta, a widow of Admiral Andrzej Karweta, Commander of the Polish Navy who was killed in the Smolensk disaster, announced that upon exhumation of her husband's body, his coffin was home to body parts of seven other victims.
2017 exhumations revealed not only how the Russians treated the remains of the victims but also how the Polish government led by Donald Tusk of Civic Platform and PSL "passed the exam" in Smolensk.

"I have nightmares of a garbage truck, a yellow one, with the white and red flag, which carries those bags that I saw in my husband's coffin," Maria Karweta said.
The widow of Admiral Karweta announced results of her husband's exhumation and autopsy at a press conference held in the Naval Riviera Club in Gdynia. The wife of the Navy Commander explained that the exhumation was carried out on June 26, 2017, and the coffin with the remains was transported to the Institute of Forensic Medicine in Warsaw, where full autopsy was conducted. She was present at the opening of the coffin.
"I saw my husband's uniform, the uniform of the Admiral, and beneath there was some underclothing, not his, in a much smaller size, green ... I think it belonged to a representative of land forces (...). Below this underwear – several bags. One - it was a bag in which bodies of the victims of a catastrophe, murder, etc. are usually transported. The next two were trash bags – large and dark; and one more - a small, yellow, transparent grocery bag. So, that is how my husband was buried," she explained.

The autopsy research began with computer tomography.
"That is where we were able to see an extra upper limb – this right hand belonged to someone decidedly shorter and slimmer than my husband. And there was an additional jaw in the coffin," she added.
On August 4, 2017, Mrs. Karweta received results of genetic research.

"In the two trash bags found in the coffin, remains of eight different people were found, including those of my husband. There were also two unrecognized pieces of remains, unidentified due to elapse of time," she said.
"Seven pieces of my husband's remains were found in four other coffins. I'm afraid to decide about another funeral. I'm afraid because the exhumations are not yet finished, and for me every funeral of my husband, every funeral is a huge drama," said Mrs. Karveta. "If there is any good that comes out of this traumatic pain it is my hope that after all this, finally, we will be able to bury my husband without these trash bags and only him!" grieves Mrs. Karweta.
"I cannot comprehend how such things could be acceptable. I am upset with the government, I am very upset with the government, which did not care at all about the safety of the man who cared so much for their safety, for our safety. The government did not care about his burial either," said Admiral's widow.
"I am very upset at people who now say that everybody should have been buried in a common grave. This way there would not be any problem," Mrs. Karweta cries. Since she had heard these words "you had to bury them in a common grave," Mrs. Karweta is tormented by nightmares.
"I have nightmares of a garbage truck, a yellow one, with the white and red flag. It carries these bags that I saw in my husband's coffin; to the garbage landfill, somewhere far, far away from the people, so that everybody forgets about them (...). Mr. Neumann, did you imagine that?" she asked rhetorically.
Mr. Neumann is a politician of the Civic Platform who publically made the impudent comment that victims of the Smolensk disaster should have been buried in a common grave.
Mrs. Karweta recalled that in 2015 additional remains of her husband were buried in his grave. She explained that the casket was not opened at that time: a small casket with additional remnants was deposited next to the main casket. She learned by phone that additional remains of her husband were found.
"The Military Prosecutor's Office called me and said that there were remains to be collected at the Institute in Cracow (...)" said the widow. She asked the caller where the remains were found, under what circumstances, etc. In reply she heard: "Please send your questions in writing to receive a reply."
"Everything in me screams when I hear that the (Tusk) government passed the test, when I hear that someone is concerned about cutting down helpless trees. And what about us? You are not concerned or sorry about us? For seven years we have been going through the Gehenna. For seven years we live in constant mourning," grieves the widow.
"There are statements: President Kaczyński divided Poland. But I want to ask - maybe this lie divided us. Maybe, had we learned the full truth, from the beginning to the end, we would reconcile and be united at last? After all only the truth sets you free," she asked rhetorically.
Referring to the Chicago Convention, she points out that the entire investigation was given to the Russians. But Karweta recalled that in 1993 the Polish Ministry of National Defense signed an agreement with its Russian counterpart on the basis of which it was possible to conduct joint investigations on the Smolensk disaster.
"Why wasn't this agreement used?" she asked. "There are claims in the public space that families were pressing for the quick burials of the victims. But these families that I know, did not push anything," she said, explaining that she herself had no say as to the date of the funeral because the state decided about it.
"Allegations are made that this situation is the fault of the families because the families made mistakes in the identification process. But in our case we were informed that our arrival to Moscow (for identification purposes) is unnecessary because the body is so greatly mutilated that it will not be possible to make any identification without genetic research," said Mrs. Karweta. She was waiting for months for her husband's documents, and only after three years had she received a complete set of documents.

Mrs. Karweta stresses that great harm was done to her.
"If, according to some, the state met the test here, then I don't really wish anybody to be in such a position," she said and added that she grew up in a family "where graves were sacred."
"Archaeologists study the origins of humanity on the basis of burials. This way they determine from which moment we became humans and to which moment we were animals. People buried their loved ones, buried them with dignity and respect, and buried them with the things they loved. Where have we gone? Is what we do now called the development of civilization, or is it its fall? How will the next generations judge us? What would they say when they discover such graves? Who are we now?" she asked rhetorically.
"The families were forbidden to open the coffins. But even if they would open them, it would not help because it was necessary to carry out the research tests that only the government could order. I have a lot of complaints about it."
Mrs. Karweta added that after having access to documents concerning the remains of her husband, she increasingly suspected "great irregularities."

"In this case the follow-up identification of remains should have been carried out in Poland. This way the families would have been spared this long horror. Only the government could have done that," she added.

She is very hurt by recent statements of people in prominent positions at the time of the Smolensk catastrophe, who are now saying that "everyone knew that the Russians had matched the remains more or less to the point of being correct." Mr. Karweta replied that "families did not know this. I assure you."
Mrs. Karweta said that after the catastrophe, she believed what the Minister of Health Ewa Kopacz was saying and wanted to believe what she was saying.

The state, which, with full consciousness of the situation, decided that the coffins were not to be opened, committed barbarism," she said.

She was never an opponent of the on-going exhumations and autopsies, though she was frightened and afraid of it.
"The most important for me was to bury my husband. It's very good that this process started and I think it should be finished. I am sorry that some families oppose the exhumations. I am sorry because I do not know whether there are any fragments of my husband in their coffins. By giving such rights (to block exhumations) to ones, the fundamental rights are denied to others," she said.
"I had full assurance of the most important people in the government that everything was in order and done perfectly. Now, I have less reproach to the Russians because my husband did not serve them. It was not for them that he risked his life. He was not a Russian soldier. He was a Polish soldier. From Poland I expected respect, from Poland I expected assurance of his safety when it was possible to provide it," she said.

"I very much need to hear "sorry." (...) I expect some humility, confession, acceptance of guilt for bad decisions. This is above all…" Mrs. Karweta cries.
"In the government we need right now strong people who are able to deal with unforeseen situations, not those who volunteer (as Ewa Kopacz said)," she added.
At the time of his death on April 10, 2010 Andrzej Karweta was 52 years old. He was buried in the suburb of Gdansk, where the Admiral had been living since 2007.
At the beginning of April 2016, the Smolensk investigation was taken over from the liquidated Military Prosecutor's Office by the National Prosecutor's Office. In June of that year, the prosecutors announced that it was necessary to carry out exhumations of 83 out of the total 96 victims of the Smolensk disaster. Nine exhumations were carried out in 2011-12, four victims were cremated.
On July 27, 2017, the National Prosecutor's Office reported that results of the autopsies of 32 out of 33 victims exhumed since November 2016 are already available. The autopsies revealed that in 13 cases the coffins contained body parts of other victims, and in two cases the bodies were buried in wrong graves. In June 2017, the National Prosecutor's Office reported that irregularities were also found in the coffin of late President of Poland Lech Kaczyński.
First results of the exhumation of Admiral Karweta were reported by "Gazeta Polska" in the article entitled: Russian Barbarianism! The remains of Admiral Karweta were desecrated in Smolensk.
Source: PAP, Niezalezna.pl
Photo: pomorskie.naszemiasto.pl